We're installing a new front end under the footbrake Camaro to lose some weight& get the front end to settle...
with tubular K-member,koni coilover drag struts,rack steering, drop spindles,wildwood brakes...
While we had the engine out, I decided to see if I could find a few more ponies in the 383. We had been running a port matched Victor Jr. that we already had when we first built the engine,but I wanted to try a Super Victor to see if the bigger CSA would benefit the 383. So we got a 2925 & I did the old plenum mod to it...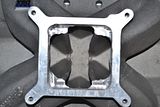 After hogging in the Bridgeport...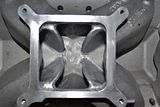 After hand blending...
I'm also flat milling the heads to bump up our squeeze, increasing the csa of heads slightly, & changing camshaft ICLs. Should be interesting to see the results, which I will post up. It will probably be 4 months or so before we get through with it.Here's a couple of pics of the heads,hard to tell anything really...I'm trying to get adjusted to this new Nikon camera...